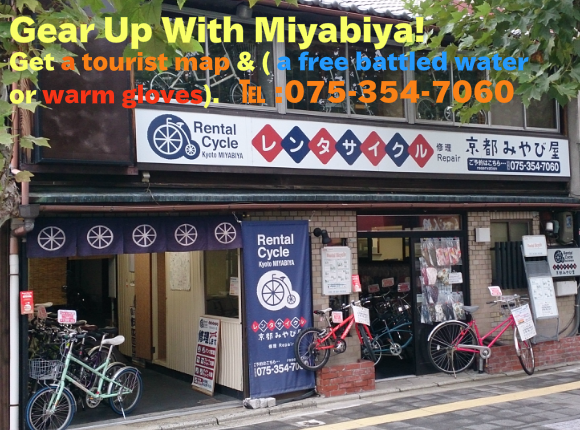 "MIYABIYA" is Kyoto's "machiya" bicycle rental shop. Bicycles are the best for sightseeing in Kyoto!
Why rent a bicycle? There are so many reasons to have a bicycle while in Kyoto city. They are great in narrow and crowded streets, and there are no difficult bus or train transfers. Also In Kyoto there are a lot of world heritage sights such as: Kyomizu-dera, Kinkaku-ji, Nijo Castle, etc. On bus or train visitors can't experience this great city's full potential or feel the nice breeze, experience Kyoto's rich history, culture, natural scenery, or city. We want to help give visitors a better trip experience. In our shop we offer more than 18 different types of bicycles: city bikes, electric assisted bicycles, mini bicycles, cross bicycles, mountain bikes, kids bikes etc. Let us help you find the bike that is best for you! On bicycle we are sure you will have a great time sight seeing in Kyoto.
We are waiting to serve your sightseeing needs.
Autumn campaign:9/Nov.~8/Dec.
You can rent city bicycle by 11:00 p.m. without extra charge during the period of this autumn campaign.※1
You can also rent electric assisted bike by 11:00p.m. by extra charge ¥400+tax/ per bike. (NEED prior booking)※2
Please let us know if you order this autumn campaign at the time of booking.
※ There are limited number of the bicycles of autumn campaign.
※1 City bicycle A(¥800) is not on autumn campaign.
※2 You need to take a reservation to rent electric assisted bikes until 11:00p.m.. Please let us know at the time of booking if you would use autumn campaign.

◆ No Japanese?

No Problem!

We have English speaking staffs for customers who may not know Japanese.
Get a FREE detailed tourist map.
Get a FREE 500ml Bottle of Water or FREE Cotton Gloves by your choice!
For every rental of 2 or more days, we offer a per day discount starting at 10~20%. The more days you rent the bigger the discount.

◆ Want to use until a late hour?

No Problem!

You can extend use time until 23:00 with an extra ¥400.(This service is applicable only to City Bike types.)

◆ Tall?

No Problem!

We offer a type of bicycles with a much longer than average seat pole.

◆ No place for your luggage?

No Problem!

We can hold your luggage during your rental FREE of charge. This is a very useful after check-out and before check-in.

◆ Traveling with children?

No Problem!

We offer bicycles for kids and children as well as bicycles with attached baby seats.